Garage Door Repair
Broken garage doors are not only inconvenient they can be dangerous. Call First Class Garage Door 24 hours a day for fast, reliable, honest garage services. Trained technicians with trucks stocked to do most repairs will arrive quickly at your home making your home safe and secure.
Garage Door Repair Satisfaction Guarantee
Satisfaction is key and we like happy customers. Here is our process and guarantee to you.
We immediately dispatch professional technicians to your home
The team evaluates the damage and determines the safest and most effective way to repair the garage door and track system
Whenever possible, we repair your existing door, but if the damage is too great, we offer professional advice on a replacement garage door.
We always have high-quality parts on-hand, so the repairs are finished quickly.
Our work is 100% guaranteed, so if you are ever dissatisfied with the repairs, simply call us, and we will come to your home right away!
Our service area includes Aurora, Colorado and surrounding cities such as Parker, Littleton, Castle Rock, Highland's Ranch and the entire Denver metro area. Check your city to see what specials we are running right now!
Most Common Garage Door Problems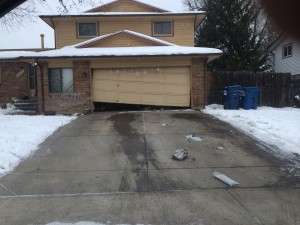 Garage door opens unevenly
Makes loud noises when opening or closing
Remote does not work
Is stuck open or closed
Falls to quickly when opened
Broken Spring Replacement
One of the biggest garage door repairs we see is broken springs. Opening and operating your garage door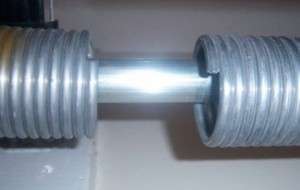 would be impossible without the help of industrial-strength springs. The springs are designed to offset the weight through counterbalancing.
For proper operation, the springs must exert a force that equals the weight of your door. Too much force in the springs will damage the tracks, rollers and garage door. If the springs do not exert enough force, the door will not open, and your automatic garage door system can be damaged.
The experts of First Class Garage Door have the skill and experience you need for broken spring replacement. We take every precaution to protect your family and contents of your garage, and we only use the highest quality springs for the repair.
If one of your springs is broken, our technician will recommend that both springs be replaced. Over time, springs wear out and break. If one spring breaks, excess wear and tear is placed on the remaining spring, thereby shortening its lifetime.
Each technicians has stocked trucks ready to perform your repairs so that you can get on with your day. We promise fast accurate repairs done with superior professionalism. Every repair is explained clearly and no surprise add on charges at the time of invoice.
Get your repair done right and done quickly with our hassle free, stress free garage door repair services.
Call Now for Service 303-900-1313